OdontoTest: Genetics and microbiology in oral diseases
Test to analyse genetic variants and types of bacteria that influence the occurrence and development of periodontitis, peri-implantitis and caries.
What is the OdontoTest for?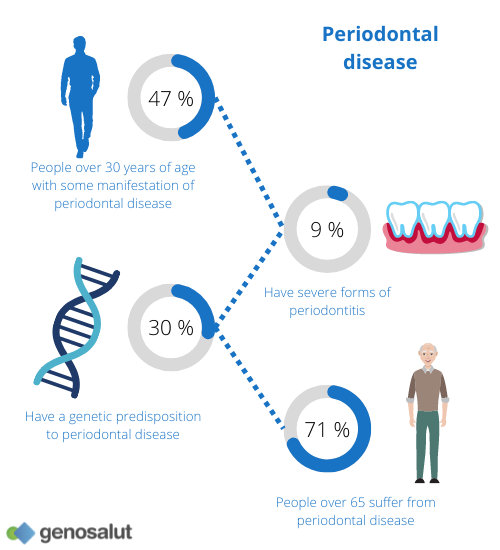 The OdontoTest is used for the detection of relevant microorganisms involved in the development of periodontitis, peri-implantitis and caries as well as for the genotyping of the most significant gene variants related to individual susceptibility to the development of these disorders.
Caries and periodontitis are the most common infectious diseases of the oral cavity. Caries is related to the destruction of dental hard tissues, while periodontitis affects the soft tissues and alveolar bone. Gingivitis is a reversible condition that affects the gums, but may favour the development of periodontitis.
These diseases are classically associated with dysbiosis of the commensal microbial flora of the oral cavity. However, in the current concept of oral cavity infectogenomics, host genetic factors are also considered relevant and may exert a significant influence on the formation and composition of microbial biofilms, as well as on the immune response to this microbial challenge.
What does the OdontoTest analyse?
Using a saliva sample obtained by rinsing the mouth with sterile saline, we analysed the presence of periodontopathogenic and cariopathogenic bacteria and the genetic variants associated with these conditions by qPCR-HRM.
qPCR using the modified Pfaffl relative quantification model for counting micro-organisms in ug/μl for the detection of the following bacteria:
S. mutans
Lactobacillus spp
Actinomyces spp
A. actinomycetemcomitans
P. gingivalis
T. forsythia
T. denticola
P. micra
P. intermedia
F. nucleatum
The qPCR-HRM technique is applied to detect variants in the following genes:
MMP16
AMELX
DEFB1
GLT6D1
IL-1B
Who is the OdontoTest aimed at?
Genetic and microbiological studies for dentists offer solutions and support in the prevention, diagnosis and treatment of oral diseases such as periodontitis, peri-implantitis or caries. They are especially recommended in the following cases:
Information from the OdontoTest
How can I request a OdontoTest
Request an appointment with us
Reasons for trusting Genosalut