Genetic testing for rare diseases
Which rare diseases do we analyse?
We are currently working on updating the website and we have more genetic tests available. If you do not find what you are looking for, please contact us through our contact form or call us on +34 616 59 01 65 from Monday to Friday from 9.00 am to 1.00 pm.
Rare diseases are diseases that affect a small number of people compared to the general population. As a general rule, a disease is called rare if it affects fewer than 5 out of 10,000 people.
This may not seem like a lot, but in Spain some three million people suffer from one of the more than 7,000 diseases that fall under this definition. Across the EU, an estimated 30 million people are affected, equivalent to one in 20 citizens. So "rare diseases" are not so rare. However, there are only very few cases of each disease individually, and most of those affected are children. The diseases are very diverse: rare types of cancer, diseases of the cardiovascular system, metabolic, nervous, infectious and autoimmune diseases.
They are usually life-threatening or long-term debilitating diseases, usually with a high level of complexity.
What genetic tests for rare diseases do we offer at Genosalut?
At Genosalut we offer different genetic tests for the detection of mutations associated with rare diseases such as Andrade disease, Noonan syndrome, Fabry disease…
What is the cause of rare diseases?
Most rare diseases (around 80%) are genetic. In these cases, the cause is usually:
Changes (mutations) affecting a single hereditary trait, so-called monogenic diseases
Changes affecting a section of a chromosome (deletions, duplications, inversions) 
External environmental influences (difficult birth, infections, accidents, environmental influences, etc.) are not among the main causes of rare diseases although they do have an influence on their onset and progression.
Many of these rare diseases are so-called dysmorphic and retardation syndromes as they result in a developmental disorder or disability that usually begins in childhood, but sometimes does not manifest itself until adolescence or adulthood.
Many of these genetic mutations can be passed from generation to generation, which explains why some rare diseases are familial. Other mutations appear de novo in the affected person. These are mutations that arise for the first time either in a germ cell (egg or sperm) from a parent, or mutations that arise directly in the zygote during early embryogenesis.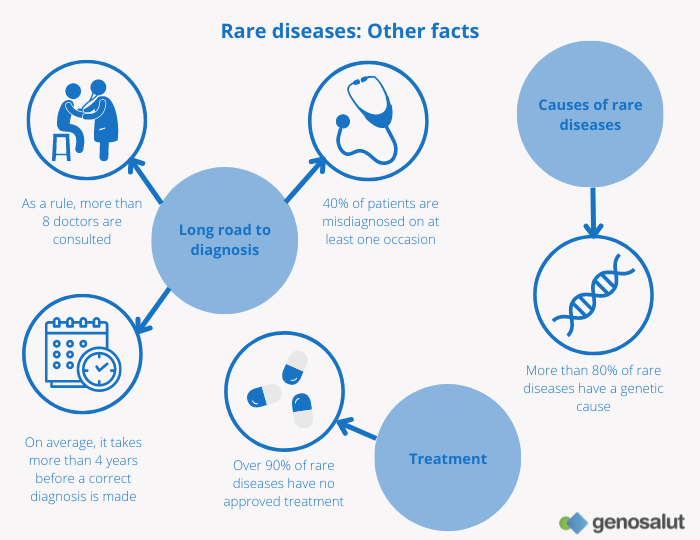 Request an appointment with us
Reasons for trusting Genosalut