HLA-B27: subtypes related to autoimmune diseases
Test for HLA-B27 allele subtypes associated with autoimmune inflammatory diseases of the spine, spine and sacroiliac joints, known as spondyloarthropathies, such as ankylosing spondylitis.
What is the HLA-B27 allele and what is its relationship to disease?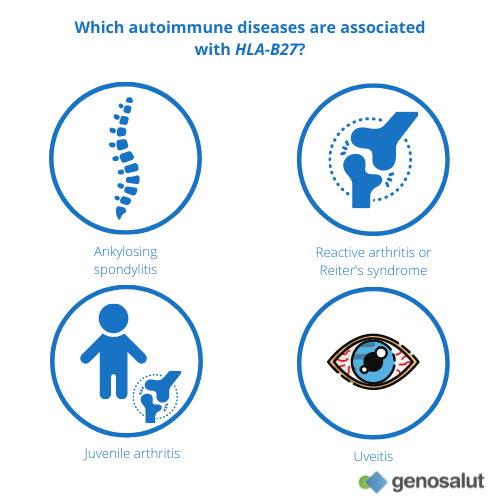 The HLA-B27 allele is a variant of the HLA gene that has been associated with several rheumatic diseases collectively known as spondyloarthropathies, most notably ankylosing spondylitis.
About 90% of patients with ankylosing spondylitis have some subtype of the HLA-B27 allele, i.e. they are HLA-B27 positive.
Other related autoimmune diseases are juvenile rheumatoid arthritis (80% of patients), and Reiter's syndrome or reactive arthritis (50-80%). HLA-B*27 subtypes are also present in 50% of patients suffering from spondylitis along with other pathologies such as inflammatory bowel disease or psoriasis vulgaris. It should be clear that the HLA-B27 allele is not the cause of these pathologies, but its prevalence is higher in affected patients.
Detección del alelo HLA-B27
At Genosalut we offer a test that can detect all subtypes of the HLA-B27 allele.
We use the qPCR-HRM technique to detect the HLA-B27 allele. It is a high-resolution technique, with high sensitivity (100%), specificity (100%) and reproducibility.
The assay has been validated by Sanger sequencing.
HLA gene: function, alleles and subtypes
How can I request a genetic test for HLA-B27?
Request an appointment with us
Reasons for trusting Genosalut