Test for Fragile X syndrome (caused by a mutation in the FMR1 gene) in women with fertility problems (premature ovarian failure).
What is Fragile X syndrome and what causes it?
Fragile X syndrome is an inherited genetic disorder linked to the X chromosome. Almost all cases of Fragile X syndrome are caused by a mutation in the FMR1 gene. This mutation is an abnormal expansion of a triplet nucleotide repeat (CGG) region at the end of the X chromosome that inactivates (silences) the FMR1 gene and prevents it from producing the corresponding protein FMRP1 (Fragile X mental disability protein). This protein is essential for normal brain development and its loss causes the typical signs and symptoms of Fragile X syndrome.
The syndrome is named after the fact that this mutation causes a small break in one of the arms of the X chromosome known as the fragile site, which only becomes apparent when the chromosome is treated under specific conditions in the laboratory.
The prevalence of this syndrome is 1 in 4,000 males and 1 in 8,000 females worldwide. It is the most common cause of inherited intellectual disability in males and is also a major cause of intellectual disability in females.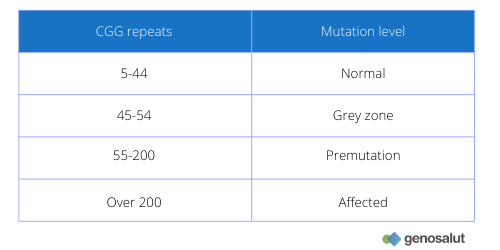 As we have already indicated, the cause of Fragile X syndrome is the extension of a repetitive region (CGG triplet) at the end of the X chromosome. Thus, according to the number of copies of this triplet, we classify people as follows:
Healthy people: this repetitive region of DNA is repeated 5 to 44 times.
People in the so-called grey zone: they have 45 to 54 repeats.
Healthy people (without symptoms) who carry what is called a premutation. This premutation is characterised by a number of repeats between 55 and 200. However, women with this premutation are more likely to have fertility problems related to their ovarian reserve and in addition, the premutation can expand to more than 200 repeats in the germ cells that develop into eggs. This means that women with the FMR1 premutation have an increased risk of having a child with Fragile X syndrome.
In people with Fragile X syndrome, the CGG segment is repeated more than 200 times. It is this expansion that inactivates (silences) the FMR1 gene.
Study of Fragile X syndrome in the context of fertility
The disease also affects the reproductive health of carriers and patients. As mentioned above, women carrying a premutation are at increased risk of early ovarian failure and juvenile menopause due to low ovarian reserve. Approximately 20% of women with premutation have premature ovarian failure compared to 1% of the normal population.
At Genosalut we perform a molecular study that allows us to detect the expansion of the CGG triplet found in the 5'UTR region of the FMR1 gene, which causes 99% of cases of Fragile X syndrome.
This study allows to determine the number of repeats and to distinguish between a range of normal CGG repeats (5-44 repeats), grey zone (45-54 repeats), premutated (55 to 200 repeats) or full mutation (more than 200 repeats).
The study has a reliability of 99%.
When testing for Fragile X syndrome is recommended
In the context of fertility, the study of Fragile X syndrome is recommended:
In women with fertility problems related to elevated follicle stimulating hormone (FSH) concentrations. Especially in the following cases: female relatives with premature ovarian failure, family history of Fragile X syndrome, or intellectual or developmental disabilities with undetermined causes.
In young women with low ovarian reserve or early menopause.
Female carriers of Fragile X syndrome can transmit the disease to their offspring:
50% of sons could be affected.
50% of daughters may be carriers or have some degree of the disease.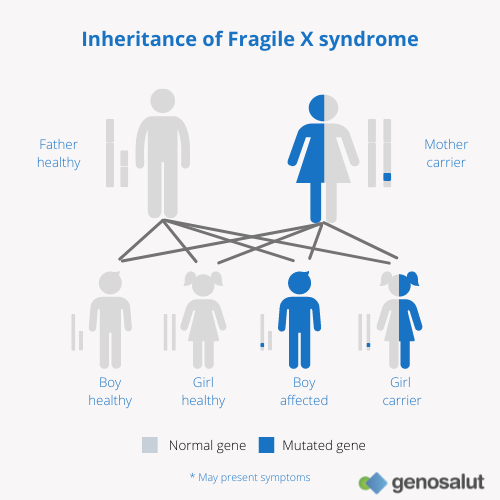 Information from the Fragile X study
How can I request a test for Fragile X syndrome?
Request an appointment with us
Reasons for trusting Genosalut