What genetic tests for fertility problems do we offer?
We are currently working on updating the website and we have more genetic tests available. If you do not find what you are looking for, please contact us through our contact form or call us on +34 616 59 01 65 from Monday to Friday from 9.00 am to 1.00 pm.
Why is the Genosalut fertility diagnosis useful?
What do we do at Genosalut for couples with fertility problems?
Many couples with fertility problems spend years searching for treatment options. This search often involves psychological and physical suffering, as well as considerable financial loss.
In many cases, the results of certain genetic tests provide information that makes it possible to determine or narrow down the cause of infertility. In this way, the couple can obtain a result that allows them to know their chances of achieving a full-term pregnancy. In other words, the identification of the cause of infertility allows for personalised and informed counselling that can be adapted to the needs of people seeking medical support.
At Genosalut, in addition to carrying out various diagnostic tests, we advise couples in whom we detect a chromosomal abnormality or mutation in the context of infertility clarification, as sometimes the knowledge leads to the possibility that the offspring:
Have developmental problems or disabilities
Also be affected by infertility (if assisted reproductive technology, ART, is chosen)
What do we examine during the fertility diagnosis?
Depending on the case and the history, we recommend one or more of the following tests:
Chromosomal analysis (karyotyping) of both partners.
If sperm formation is altered: examination of the man's DNA to determine if there are deletions (of AZF) or specific mutations, such as cystic fibrosis, related to abnormal seminograms. We also analyse the sperm DNA to see if it is fragmented.
If there is testicular alteration in the form of absence of vas deferens, a study of the cystic fibrosis gene (CFTR gene) should be performed.
If there are signs of premature ovarian failure (POF) in the woman, a test is performed to determine if she is a carrier of Fragile X Syndrome.
We also perform carrier screening for a variety of recessive, autosomal or X-linked genetic diseases.
A complete exome analysis to analyse the causes of infertility in women and men. We analyse the results based on extensive research of the scientific literature and our own experience. We take into account common and rare genetic causes of infertility.
Genetic diagnosis: its role in fertility and pregnancy
In recent decades, more and more people have been unable to realise their dream of having children. There are many factors, including genetic factors, that affect the fertility of women and men.
In recent years, genetic diagnosis and counselling have acquired a relevant role in cases of infertility and recurrent miscarriages, making it possible to clarify the cause of these problems and also to propose solutions in a high percentage of cases. At Genosalut we have been advising and helping couples who wish to have children for more than 10 years.
What are the causes of infertility?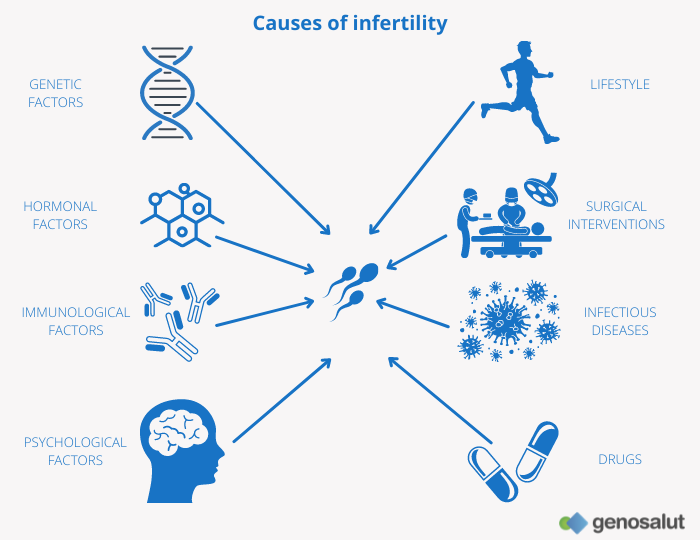 Like other multifactorial diseases, environmental factors as well as genetic and/or epigenetic abnormalities are involved in its onset, which makes it very difficult to determine its aetiology. According to recent data, genetic origin is the cause in approximately 15% to 30% of infertile individuals.
These environmental and genetic factors will affect the different processes related to reproduction, which is why we find different types of problems: hormonal, immunological, psychological, lifestyle-related (exercise, diet…), derived from surgical interventions, caused by infectious diseases…
Request an appointment with us
Reasons for trusting Genosalut