Study of microdeletions on the Y chromosome
Study of microdeletions in the AZFa, AZFb and AZFc regions of the Y chromosome leading to different patterns of male infertility, from severe oligospermia to non-obstructive azoospermia.
What are Y chromosome microdeletions?
Y-chromosome microdeletions are losses of small fragments of the Y-chromosome and one of the genetic causes of male infertility. These losses have a negative impact on male fertility, as spermatogenesis (sperm production) is affected.
The Y chromosome is the sex chromosome of males. It is characterised by being the smallest chromosome and contains a number of male-specific genes.
Microdeletions of the Y chromosome generally cause from a low quantity of sperm in the ejaculate (oligozoospermia) to the total absence of sperm in the ejaculate (azoospermia). It is therefore advisable to carry out a genetic study of microdeletions in patients with a normal karyotype but with one of these seminal alterations.
When a male presents any alteration, damage or loss of a fragment of this chromosomal region, he will be diagnosed with a male factor that causes infertility.
The Y chromosome is composed of two arms (the short arm, Yp, and the long arm, Yq) and a centromere. When using the deletion mapping technique, it is divided into seven deletion intervals, which are further subdivided into sub-intervals designated by letters of the alphabet. The short arm contains intervals 1 to 4, and the long arm contains intervals 5 to 7.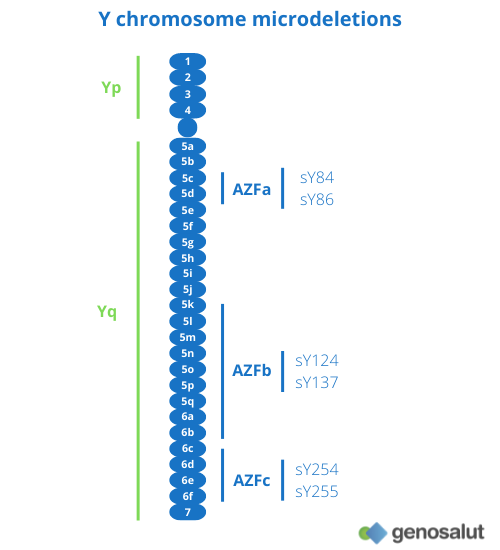 Study of microdeletions on the Y chromosome
At Genosalut we analyse by qPCR-melting the microdeletions of the Y chromosome: AZFa, AZFb and AZFc.
qPCR amplification of the regions of interest with specific primers and subsequent melting analysis:
AZFa region: markers sY84 and sY86
AZFb region: markers sY127 and sY134
AZFc region: markers sY254 and sY255 (both in the DAZ gene)
When it is recommended to test for Y chromosome microdeletions?
This test is recommended in patients with alterations in the number of spermatozoa in the seminogram, mainly:
In oligospermic patients (less than 5 million/ml sperm count).
In azoospermic patients (absence of spermatozoa in the ejaculate).
Information from the study of Y chromosome microdeletions
How can I request a Y chromosome microdeletion study?
Request an appointment with us
Reasons for trusting Genosalut