Personalised counselling service for people suffering from, at risk of suffering from or transmitting to their offspring any disease with a genetic component: cancer, rare diseases, chromosomal diseases, etc. 
What is genetic counselling?
Hereditary factors play an important role in many diseases. In the case of rare diseases, they are the main cause, as a genetic defect is behind about 80% of them. However, hereditary factors can also be of great importance in the development and evolution of other diseases (cancer, diabetes, cardiovascular diseases, mental illnesses…), in the response to drugs (pharmacogenetics) and in food metabolism (nutrigenetics).
During genetic counselling, the person is informed not only about the risks of hereditary diseases for him/herself, but also for close relatives, as well as the risk of disabilities, malformations and genetic diseases in future offspring.
Genetic counselling is a communicative process that serves to inform, educate and support patients and families with a suspected or confirmed diagnosis of genetic disease.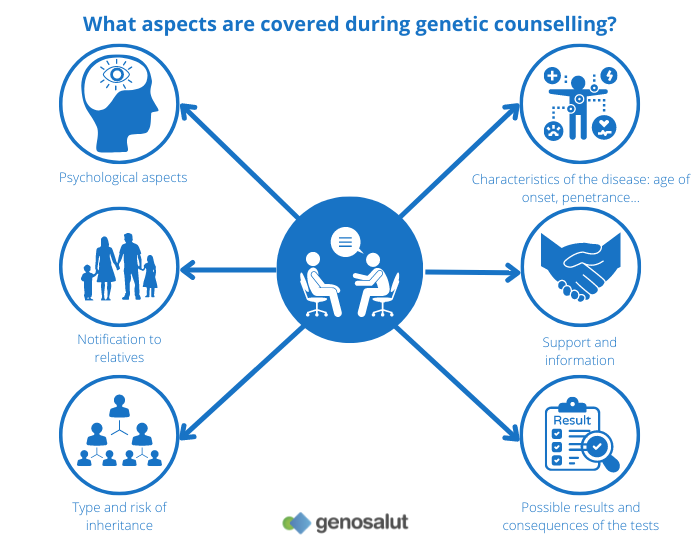 Counselling for all types of genetic diseases
Our specialists at Genosalut can offer counselling for the entire spectrum of genetic diseases as well as molecular genetic diagnostics for virtually all of them.
What does genetic counselling include?
Genetic counselling includes one or more of the following points:
Clarification of your personal questions and the purpose of counselling
Elaboration of your personal and family health history (anamnesis)
Evaluation of existing medical results or reports
Tests from saliva, blood or other tissues, if relevant to your question and considered necessary
Medical-genetic diagnosis as accurate as possible
Detailed information on the diseases or disabilities in question
Assessment of specific genetic risks
Assessment of general genetic risks
Detailed advice on the possible relevance of this information to your life and family planning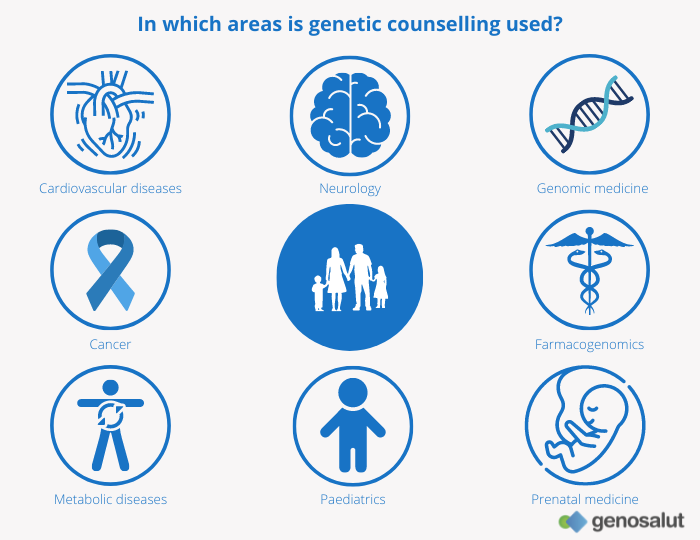 Prevention and peace of mind with genetic counselling from Genosalut
How can I request an appointment for genetic counselling?
Request an appointment with us
Reasons for trusting Genosalut