Genetic testing for prostate cancer
Genetic testing to determine if you have any mutations associated with an increased risk of prostate cancer.
Genetic test for prostate cancer - Know your risk
Approximately one in eight men will develop prostate cancer in his lifetime. In Spain, prostate cancer is the second most frequently diagnosed cancer, behind colorectal cancer and ahead of breast cancer. In men, it is the third most common cause of cancer mortality, behind lung cancer and colorectal cancer.
Between 5% and 10% of prostate cancer cases are thought to be caused mainly by inherited high-risk genetic factors or prostate cancer susceptibility genes. In addition, some of these genetic variants (BRCA2 or HOXB13) are associated with life-threatening forms of prostate cancer.
Thanks to our genetic tests we can determine whether a person has an increased risk of developing this disease and we can also establish whether cases of prostate cancer in a family have a hereditary cause. A genetic test is indicated in the following cases:
3 or more first-degree relatives with prostate cancer.
2 or more first-degree relatives, in the same part of the family, diagnosed with prostate cancer before the age of 55.
Prostate cancer in 3 generations on the same side of the family (paternal or maternal).
You have or have had prostate cancer before the age of 55.
You have prostate cancer and other members of your family have been diagnosed with breast, ovarian or pancreatic cancer.
In the first three cases, genetic testing of your family, preferably of an affected member, can assess your personal risk. In the latter two cases, genetic diagnosis can clarify your risk of a second tumour, as well as the possible risks of other family members.
Genetic testing for prostata cancer
At Genosalut we have more than ten years of experience in carrying out genetic tests for cancer. We attend patients who come directly to our clinic and we also work with a network of specialist doctors who trust us to carry out these tests on their patients.
In the drop-down menu you will find information about the different genetic tests for colorectal cancer that we offer in our laboratory:
What are the risk factors for prostate cancer?
Age: The risk of prostate cancer increases with age, especially after the age of 50. About 60% of prostate cancers are diagnosed in people aged 65 and older.
Race/ethnicity: Men of certain races or ethnicities have a higher risk of prostate cancer. For example, the lifetime risk of prostate cancer is 27% for a black man, 7% for an Asian man and 12% for a white man.
Geography: Prostate cancer is most common in North America, northwest Europe, Australia and the Caribbean islands. It is less common in Asia, Africa, Central and South America. Reasons suggested are: increased screening in some developed countries, genetic factors and environmental factors.
Family history: Familial prostate cancer accounts for approximately 20% of all prostate cancers. In about half of these cases the underlying cause is a known genetic mutation (hereditary prostate cancer). In the remaining cases it is a combination of as yet unknown mutations and/or shared environmental or lifestyle factors.
Other factors: other factors such as diet, obesity and exposure to certain chemicals have been associated with an increased risk of cancer.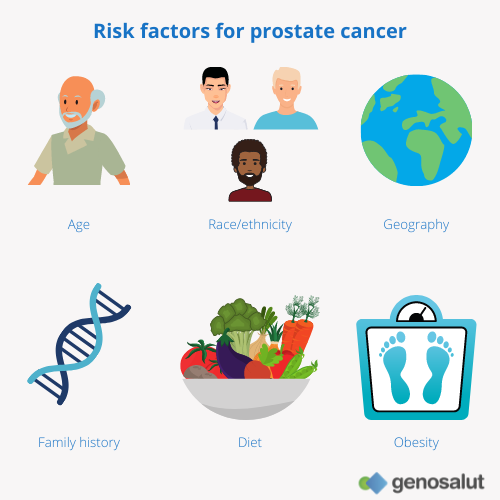 Prevention and peace of mind with the genetic tests of Genosalut
How can I request a genetic test for prostate cancer?
Request an appointment with us
Reasons for trusting Genosalut