What types of cancer do we analyse?
We are currently working on updating the website and we have more genetic tests available. If you do not find what you are looking for, please contact us through our contact form or call us on +34 616 59 01 65 from Monday to Friday from 9.00 am to 1.00 pm.
What genetic tests for hereditary cancer do we offer at Genosalut?
At Genosalut we offer different genetic tests for the detection of variants associated with increased risk in the most common types of hereditary cancer (breast, colon, rectum, ovary, prostate…). These tests include: familial mutation analysis, panels, exome analysis and genome analysis.
Genetic testing for hereditary cancer, what is it and what is it for?
Genetic tests allow us to study the alterations in genes (mutations) associated with an increased risk of cancer and therefore we can find out if there is a mutation responsible for the different types of hereditary cancer.
Knowing that you carry a mutation that increases your risk of cancer will allow you and your doctor to create a personalised screening and prevention plan designed to help reduce the risk of developing cancer.


What are sporadic, hereditary and familial cancers?
Cancers are caused by changes in genes (mutations). In most cases, these changes occur spontaneously (sporadic cancer) during the course of life, as cancer is primarily a disease of old age. In other words, to a large extent these mutations are not inherited, but can appear as we grow older. However, there are certain cases of cancer that show familial aggregation – hereditary cancer and familial cancer.
What is the rate of hereditary cancer?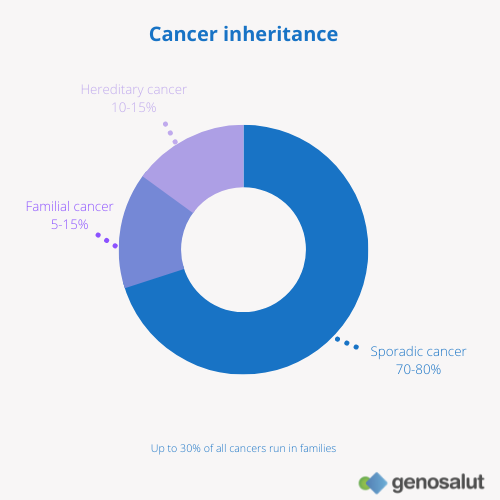 It is estimated that between five and thirty percent of cases of cancer present a familial aggregation.
We speak of hereditary cancer when there is a known congenital genetic predisposition (one or more mutations) that can be transmitted from parents to children. In most cases there are usually changes in one or more genes, especially those that play a role in cell cycle control or in the repair of genetic damage (DNA damage).
Familial cancer is a cancer that occurs in certain families more often than expected by chance. Although no specific mutation has been linked to these cancers, familial cancer may have a hereditary component that has not yet been identified and/or the influence of a shared environment.
Request an appointment with us
Reasons for trusting Genosalut