Genetic testing for colorectal cancer
Genetic testing to determine if you have any mutations associated with an increased risk of colorectal cancer.
Genetic test for colon cancer - Know your risk
The lifetime risk of colorectal cancer in the general population is approximately 1 in 23 (4.3%) for men and 1 in 25 (4.0%) for women. However, this risk can increase by a factor of 4 if there is a family history of colon or rectal cancer (relative risk indicated in the table).
If any of the following statements apply in your family, it may indicate a family history of colorectal cancer and further evaluation is recommended:
One person in the family under the age of 60 with colorectal cancer.
Two people in the family with colorectal cancer.
One person with small bowel cancer.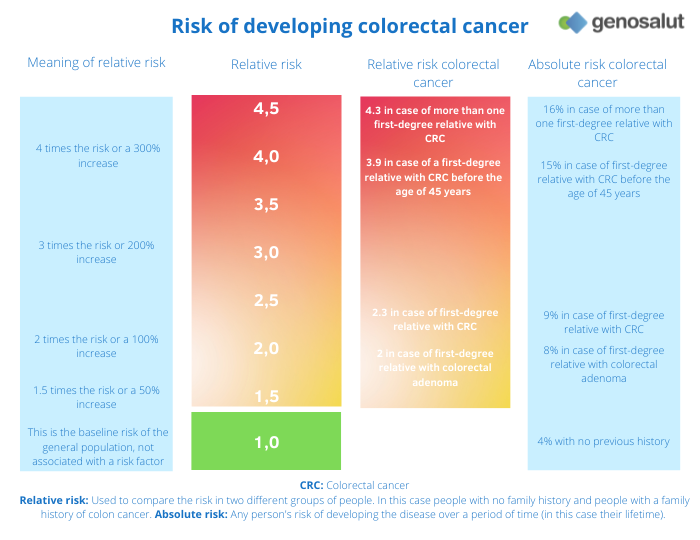 Genetic testing for colorectal cancer
At Genosalut we have more than ten years of experience in carrying out genetic tests for cancer. We attend patients who come directly to our clinic and we also work with a network of specialist doctors who trust us to carry out these tests on their patients.
In the drop-down menu you will find information about the different genetic tests for colorectal cancer that we offer in our laboratory:
Hereditary and familial colorectal cancer
Up to 35% of colorectal cancer cases are associated with an increased familial risk. Out of all cases, 10% of patients have hereditary colorectal cancer (associated mutation known) and 25% of patients have familial colorectal cancer (mutation and/or other associated factors unknown).
These hereditary syndromes are characterised by the presence of mutations in some genes, mainly those responsible for controlling cell division and repairing our DNA. These mutations can be transmitted from generation to generation.
With regard to colorectal cancer, the two most common syndromes are familial adenomatous polyposis (FAP) and Lynch syndrome (also known as hereditary non-polyposis colon cancer, HNPCC). Other types of hereditary colorectal cancer include juvenile polyposis syndrome, serrated polyposis syndrome, Cowden syndrome, MUTYH-associated polyposis syndrome and Peutz-Jeghers syndrome.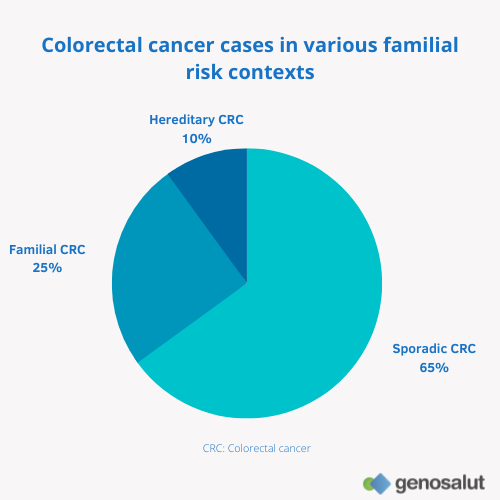 Prevention and peace of mind with the genetic tests of Genosalut
How can I request a genetic test for colorectal cancer?
Request an appointment with us
Reasons for trusting Genosalut