Genetic testing for breast cancer
Genetic testing to determine if you have any mutations associated with an increased risk of breast cancer.
Genetic test for breast cancer - Know your risk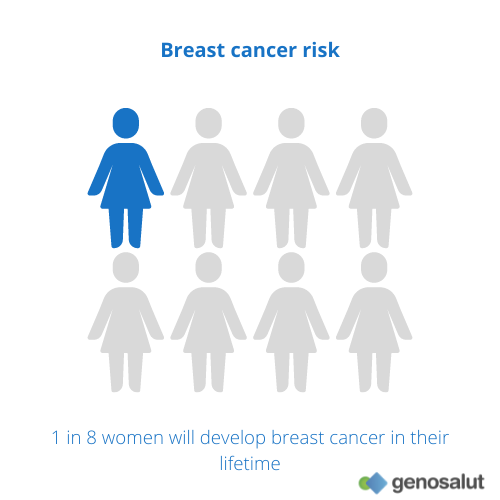 Approximately one in eight women will develop breast cancer in her lifetime. Between five and ten percent of these cases are hereditary breast cancer. Thanks to our genetic tests we can determine whether a person has a higher risk of suffering from this disease and we can also establish whether the cases of breast cancer in a family have a hereditary cause. A genetic test is indicated if:
You suffer or have suffered from breast cancer. In this case, genetic diagnosis can clarify your risk of developing a second tumour, as well as the possible risks of other family members.
If you have a family history of breast cancer or particularly early breast cancer. In this case genetic testing of your family, preferably of an affected member, can assess your personal risk.
Genetic testing for breast cancer
At Genosalut we have more than ten years of experience in carrying out genetic tests for cancer. We attend patients who come directly to our clinic and we also work with a network of specialist doctors who trust us to carry out these tests on their patients.
In the drop-down menu you will find information about the different genetic tests for colorectal cancer that we offer in our laboratory:
Breast cancer risk with BRCA1 and BRCA2 mutations
BRCA1 and BRCA2 were the first two genes to be associated with familial breast cancer. These two genes produce proteins that repair DNA damage. Each person inherits two copies of each of these genes: one from the mother and one from the father.
People who inherit a BRCA1 or BRCA2 variant mutation have an increased risk of several types of cancer, particularly breast and ovarian cancer. They also tend to develop cancer at a younger age than those who do not.
Approximately 13% of women in the general population will develop breast cancer at some point in their lives. For women with a mutation in the BRCA1 gene, between 46% and 85% of them will develop the disease before the age of 80. For women with a BRCA2 mutation, the risk is between 38% and 84%. The risk for any one woman depends on a number of factors whose characteristics are not yet fully understood.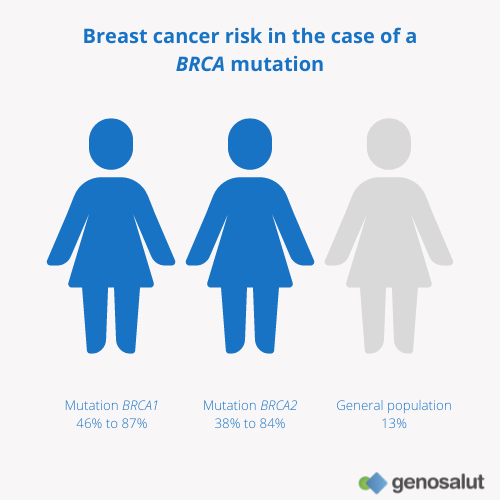 Prevention and peace of mind with the genetic tests of Genosalut
How can I request a genetic test for breast cancer?
Request an appointment with us
Reasons for trusting Genosalut