Tests on nutrigenetics and nutrigenomics
What nutrigenetic and nutrigenomic tests do we offer?
We are currently working on updating the website and we have more genetic tests available. If you do not find what you are looking for, please contact us through our contact form or call us on +34 616 59 01 65 from Monday to Friday from 9.00 am to 1.00 pm.
What is nutrigenetics and what is it for?
Nutrigenetics is the branch of genetics that studies the relationship between genes and diet with the aim of achieving optimal health through diet. We all know that an incorrect diet can be the cause behind numerous health problems such as: overweight, autoimmune diseases, inflammatory diseases, cardiovascular diseases, cancer… In addition, there are certain types of food intolerances or allergies whose cause may also be genetic.
Nutrigenetic tests analyse certain DNA variants related to important aspects of metabolism such as fat accumulation and increased BMI (Body Mass Index), appetite regulation, the metabolism of certain vitamins and other variants important for the development of a personalised diet, as well as those variants associated with food intolerances or allergies.
What nutrigenetic and nutrigenomic tests do we offer at Genosalut?
At Genosalut we offer different genetic tests within the field of nutritional genomics, from those focused on the analysis of one or a few variants to the complete study of the genome.
What is the difference between nutrigenetics and nutrigenomics?
Nutrients are able to interact with molecular mechanisms and modulate physiological functions in the body. Nutritional genomics focuses on the interaction between the bioactive components of food and the genome, and includes nutrigenetics and nutrigenomics.
The terms nutrigenetics and nutrigenomics are sometimes used synonymously although they actually have different meanings:
Nutrigenetics examines how your body responds to nutrients based on your genetics. In other words, nutrigenetics describes that the genetic profile has an impact on the body's response to bioactive food components by influencing their absorption, metabolism and site of action. In addition, it analyses genetic variants (polymorphisms or SNPs) in DNA that are associated with nutrition-related diseases.
Nutrigenomics studies how nutrients affect gene expression. In other words, nutrigenomics provides a genetic understanding of how common dietary components affect the balance between health and disease by altering the expression and/or structure of an individual's genetic make-up.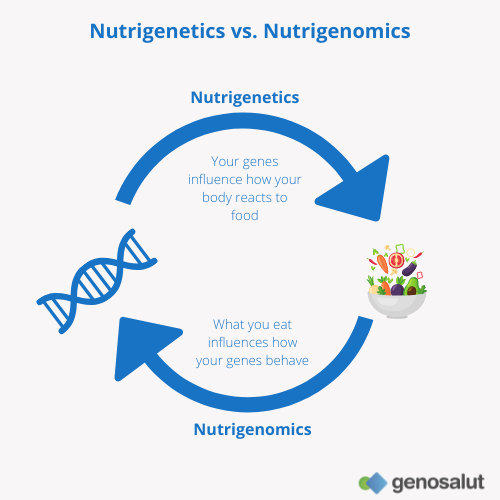 Frequently asked questions
Request an appointment with us
Reasons for trusting Genosalut