Genetic test for celiac disease
Test to analyse allelic variants associated with an increased risk of developing celiac disease.
Coeliac disease is a malabsorption disorder, caused by interactions between genetic and environmental factors. It is a special case as it is neither an allergy nor a classic intolerance, although it is called as such. It is defined as a chronic, systemic, autoimmune disease caused by the consumption of gluten, which occurs in genetically predisposed individuals.
Coeliacs have an inflamed intestinal mucosa due to the presence of gluten. This immunological intolerance causes a chronic inflammatory response in the mucosa of the small intestine which manifests itself in cases of classical coeliac disease and coeliac disease in children mainly with digestive symptoms including diarrhoea, steatorrhoea and weight loss. However, especially in adolescence and adulthood, extra-digestive symptoms may be more evident, such as: mucocutaneous disorders (psoriasis, dermatitis herpetiformis, eczema, etc.), muscular and joint problems (osteoporosis, fibromyalgia), neurological disorders (migraines, ataxia) and other disorders (anxiety, fertility problems, anaemia, etc.).
Celiac disease test by Genosalut
From a blood sample we extract DNA to analyse the risk haplotypes HLA-DQ2, HLA-DQ8 and half HLA-DQ2. Specifically the DQA1*0501 and DQB1*0201 alleles of the HLA-DQ2 haplotype and the DQA1*0301 and DQB1*0302 alleles of the HLADQ8 haplotype.
The test is based on real-time PCR technology with TaqMan probes.
The evaluation of the result is performed according to the recommendations for the preparation of genetic reports on celiac disease of the Working Group on Immunology and Genetics of the Spanish Society of Celiac Disease.
Who is the celiac disease test aimed at?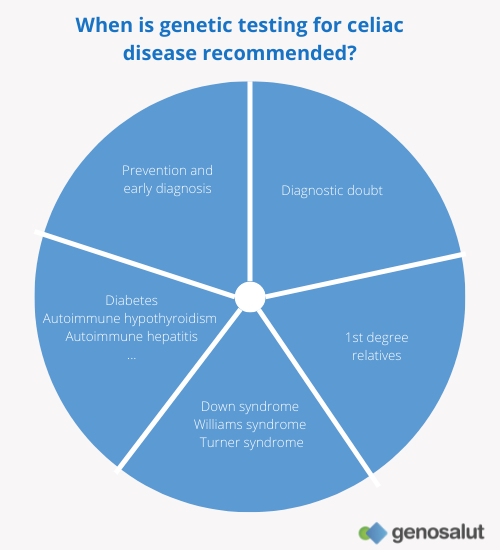 The Genosalut genetic test for celiac disease is indicated in the following cases:
Diagnostic doubt: For people with a clinical suspicion, this test serves to support the diagnosis (in cases with non-digestive symptoms or confusing clinical symptoms) and also to reduce the diagnostic delay.
Early diagnosis: Although it does not confirm the existence of celiac disease, it does evaluate the predisposition to suffer from it. In case of a positive result, the person will be alerted to his or her risk and can undergo regular testing.
Family testing: To exclude genetic susceptibility in first-degree relatives of a celiac patient. Immediate family members of a celiac patient are the most important risk group, as they share genes with them. They should therefore have this genetic test to see if they may develop the disease in the future. Sometimes, it can also help to clarify the diagnosis in the case of relatives with extra-digestive symptoms of celiac disease, which had not been considered.
Risk groups: such as people with Down's syndrome, people with diabetes, autoimmune hypothyroidism, autoimmune liver diseases, etc.
What role do genetics play in celiac disease?
Celiac disease is a disease determined by a genetic predisposition. In other words, possessing certain variants implies a higher risk of suffering from the disease, but it will ultimately be certain external factors that will determine its onset.  
As far as celiac disease is concerned, HLA-DQ2 and HLA-DQ8 are the two haplotypes (a set of genes that are inherited together) that are associated with a greater predisposition to develop it. Almost all coeliac patients (99%) carry one of these two haplotypes. 
In most of the populations studied, 90-95% of patients carry the HLA-DQ2 heterodimer and their risk of developing the disease is 50 times higher than that of the average population. However, its presence does not predict the development of the disease, as it also occurs in a quarter of the general healthy population.
The remaining patients (5-10%) usually have the DQ8 haplotype or carry one of the DQ2 haplotype alleles (Half DQ2) separately (DQA1*05 or DQB1*02).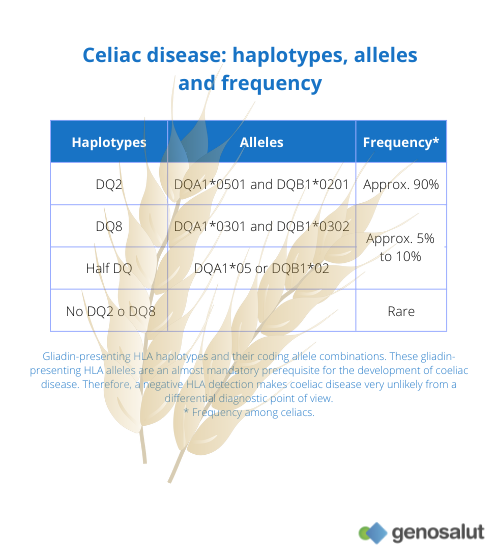 How can I request a genetic test for celiac disease?
Request an appointment with us
Reasons for trusting Genosalut