Sperm DNA fragmentation test
The sperm DNA integrity (SDI) test analyses the fragmentation of sperm DNA associated with male infertility.
Sperm DNA fragmentation and male infertility
Sperm DNA fragmentation refers to breaks in the genetic material (DNA) contained in the sperm. DNA is a double helix molecule and breaks can affect one or both strands of the helix. These lesions in the genetic material of spermatozoa can be behind fertility problems such as low fertilisation and pregnancy rates, low embryo quality and increased miscarriage rates (even in cases where the other parameters analysed in the semen sample are normal).
DNA fragmentation is an independent and complementary parameter to traditional seminograms and survival tests as it provides valuable information for assessing treatment. It is known that single strand breaks produce different problems than double strand breaks. While the former are related to male sterility (low fertilisation rates), the latter are related to slow embryo development and also to a higher risk of miscarriage.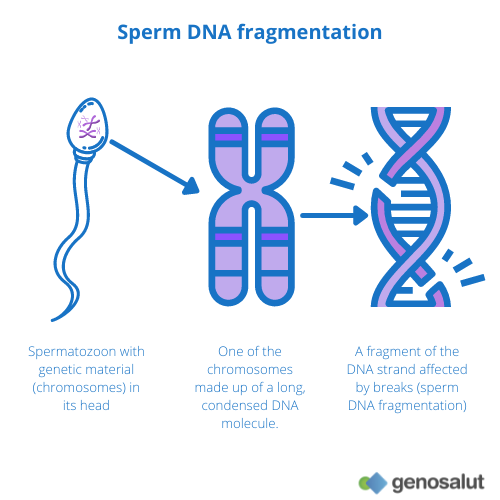 Sperm DNA fragmentation test
At Genosalut we offer two types of tests to determine sperm DNA fragmentation: the sperm chromatin dispersion (SCD) test, also known as the Halo Sperm test, and the Comet test. Both identify both single and double strand breaks, but only the Comet test is able to distinguish between the two.
This test estimates the level of DNA fragmentation indirectly by quantifying the amount of nuclear scatter/halo after sperm lysis and acid denaturation to remove excess nuclear proteins.
Spermatozoa with intact DNA will have large scatter halos, while those with fragmented DNA will have small or absent scatter halos around the head.
It allows establishing the proportion of spermatozoa with fragmented DNA in the total sample analysed (fragmentation index, FI). Calculation of the FI in patients is valuable information for selecting the most effective method of assisted reproduction for each patient.
Sperm quality based on the values obtained:
Good when the total percentage of fragmented DNA and degraded DNA is less than or equal to 20%.
Average when it is between 21% and 30%.
Poor when it is higher than 30%.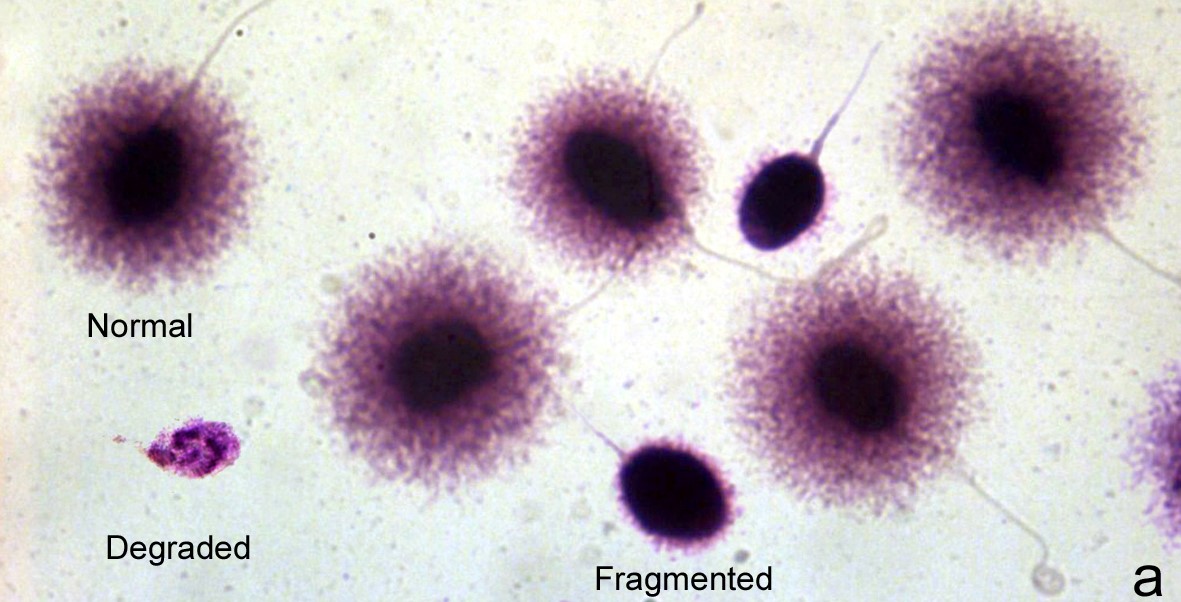 Image from Emeterre, CC BY-SA 3.0, via Wikimedia Commons
It is the most sensitive assay for detecting sperm DNA fragmentation and is based on a technique known as single cell gel electrophoresis (SCGE). 
This assay consists of:
Encapsulation of the cells in a low melting point agarose suspension.
Lysis of the cells under neutral or alkaline conditions.
Electrophoresis of the lysed cells in suspension.
The term "comet" refers to the migration pattern of DNA through the electrophoresis gel, which often resembles a comet.
In the specific case of sperm DNA fragmentation:
Alkaline lysis assays visualise single and double strand breaks in cellular DNA.
Neutral lysis assays mainly visualise double-strand breaks.
The Comet system is thus able to differentiate between single and double strand DNA breaks, and a better diagnosis can be made with a more precise study of the type of DNA fragmentation. 
When is sperm fragmentation testing indicated?
Normally, these tests for sperm DNA fragmentation are recommended in the following cases:
Infertility of unknown cause.
Repeated implantation failures.
Embryos of poor quality.
Varicocele.
Repeated miscarriages.
Males over 45 years of age.
Chronic diseases such as diabetes.
Male smokers and men exposed to environmental toxins.
Altered seminogram results.
Exposure to high temperatures.
In addition, they also recommend when the couple is unable to conceive after having undergone several fertility treatments.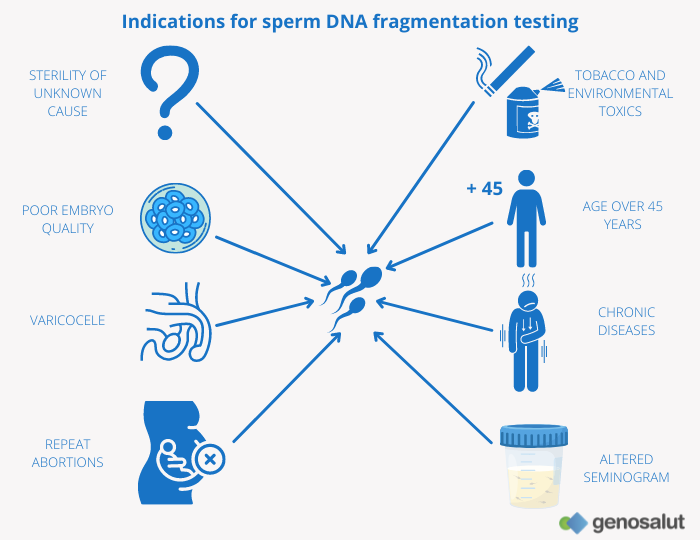 Information thanks to sperm DNA fragmentation test
How can I request a sperm DNA fragmentation test?
Request an appointment with us
Reasons for trusting Genosalut