Test for thrombophilia associated with fertility problems
Tests for the most common types of genetically caused thrombophilia associated with problems in pregnancy.
How do thrombophilias influence pregnancy?
Thrombophilias are a group of blood coagulation disorders, characterised by an increase in the coagulability of the blood and the tendency for thrombi or clots to form. They are multifactorial disorders in which both environmental factors (age, smoking, overweight, etc.) and genetic predisposition may play a role.
Evidence supports an association between certain types of thrombophilia and some specific problems in relation to the infertile couple. These coagulation disorders can hinder embryo implantation, impede normal foetal development and lead to miscarriage. 
Congenital (e.g. factor V Leiden mutation) or acquired (antiphospholipid antibodies) tendency to thrombosis can be detected with the help of laboratory tests and thus appropriate measures can be taken in situations of fertility problems and risky pregnancies. For diagnosis, various genetic and coagulation tests are usually carried out.
These tests are especially recommended for pregnant women (or women who wish to become pregnant) who have already had a thrombosis or who have a family history of thrombosis. Repeated miscarriages and pre-eclampsia (gestosis, HELLP syndrome) are also considered indications.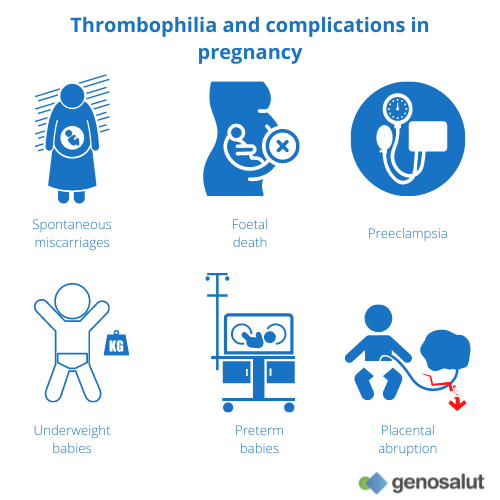 Study of thrombophilia in the context of fertility
At Genosalut we analyse by HRM (high resolution melting) the most frequent mutations associated with cases of hereditary thrombophilia: Factor V Leiden, Factor II (prothrombin), methylenetetrahydrofolate reductase (MTHFR) and Factor XIII.
When it is recommended to test for thrombophilia
Thrombophilias are not part of the basic infertility work-up. As mentioned above, the association between thrombophilia and fertility problems is evident in certain cases. Therefore, they are very specific tests, which are requested when there is a suspicion that they may be influencing the reproductive history of the couple or woman.
The main cases in which we must rule out or confirm the presence of thrombophilias are the following:
Two or more miscarriages before the tenth week of pregnancy.
One or more miscarriages after the tenth week of pregnancy.
Premature birth before the 34th week of pregnancy.
Personal history of thromboembolism.
Implantation failure. Absence of gestation after several transfers, having transferred a total of four or more embryos of good quality.
History of intrauterine foetal death.
Family history of repeated miscarriage or thromboembolism.
Severe or early pre-eclampsia.
Premature detachment of the placenta (abruptio placentae).
In summary, having had a single miscarriage or a negative transfer, in the absence of the above risk factors, are common circumstances in the general population and do not normally raise suspicion of thrombophilia.
Information from the thrombophilias study
How can I request a thrombophilia study?
Frequently asked questions
Request an appointment with us
Reasons for trusting Genosalut